Dive sites at Eastport ME should only be attempted by Advanced level and experienced divers. The extreme tidal range results in dangerously strong currents. Contact COJO for questions on the best times to dive these sites. The information provided on this site is for reference only, and does not take the place of having the proper training, experience, gear, and good judgement.
Eastport is the most easterly city in the US and is made up completely of Islands. It has a rich history, and today fishing and tourism are the main industries. It has a few annual festivals including a Pirate Festival in September. It can be reached via the US mainland, or by an international ferry that runs seasonally from Deer Island, NB. The nearest air fill station is located in Lubec, ME (207-733-8831).
This is an Advanced Dive site but is also quite manageable for experienced Open Water divers as it is rather easy to navigate. It is an excellent marine life dive. This site has a wall section to dive and several reefs, the depth increases gradually (except for the old pier blocks wall which is about 18ft high). This dive may be done at either high slack tide or low slack tide.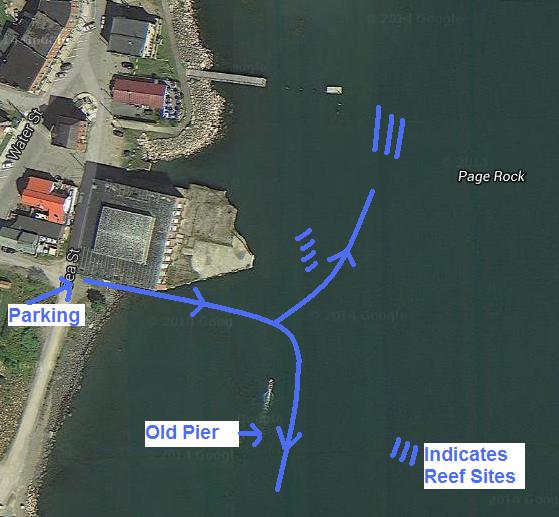 High Tide at Sea Street
Sea Street at Low Tide
DIRECTIONS
Cross the border at St. Stephen/Calais to the USA (don't forget your passport). Follow signage to Highway 1 (South). After approximately 30km, turn left on Route 190 and follow approximately 10km. Turn left on Key Street to the end, then turn right. Bear to the left to enter Sea Street. Parking will be at the far end of the large red brick building.
A for-fee ferry runs seasonally from about mid-June to mid-Sep from Deer Island to Eastport, the fare including driver is around $20.00CDN.
SITE
This is an Advanced Dive site with potentially strong current even at slack tide. This site can be dove at low or high slack tide.
To dive it at high slack tide, follow the table times for Eastport ME for slack tide.
To dive it at low slack tide, start the dive about 1.5hrs before slack tide. The access is more difficult at low tide, it's a long walk across a rocky beach and debris at the water entry point. It is the easiest time for divers new to the site to dive the old pier wall though, as the top of it is exposed at low tide.
You will have at least 45min for this dive. Depth is reached rather gradually, and most dives will be between 40-60fsw. Navigation is easy to follow the old pier blocks but use your compass bearings. To access the reefs will need info from experienced local divers. Entry/Exit will be from the same beach. When the tide starts to turn, it will depend where you are whether you will experience a gentle drift to the exit, or away!
In Winter the road is plowed so this site remains very accessible. If there has been recent snowfall, bring a shovel to get access from the road.
During the summer months, there are usually port-a-potties installed on the other side of the red brick building. Otherwise, there are no public restrooms. There are several restaurants within a short walking distance of the dive site.
ENTRY
Entry is a bit of a scramble down large uneven bolders (which were added to protect the shoreline/road from erosion). Keep close to the red brick building for the easiest path. At high tide, the water will be close to the road and is an easy entry. At low tide it is a bit of a walk, rocks may be slippery near the water and watch out for debris.
The dive MUST only be done at slack tide.
VISIBILITY
Average is 15ft, but may be lower depending on recent weather.
WATER TEMP
Water temp will range from 38F in the Winter, to 55F in early Fall.
HAZARDS
The site can have strong current, divers must be able to manage their buoyancy. Divers should not be higher than an arm length from the bottom, in case there is a sudden need to grab on to rocks. Ascent should never be direct to the surface as the area has boat traffic and surface current may be very strong. Carry a SMB in case you need to surface away from shore. A light and a whistle is recommended. A compass is essential to ensure you are following the shore line.
BOTTOM
Rocky
FEATURES
The bottom will really start to show concentrated marine life at about 20fsw. The old pier blocks can be interesting for a dive all by itself, look inside the blocks and the many gaps and crevices for marine life. The bottom in front of the blocks has debris (including some rather cool bottles), look close to the timbers for various nudibranch species.
Left of the pier block wall is a shallow reef, about 35fsw at high tide (20fsw at low tide). The wall can have surprising critters such as Basket Starfish and juvenile lumpfish. A swim at about a 30deg bearing leads to a deeper ledge area that can be very interesting, as well as a debris area for old bottles and pipes.
Keep an eye to your compass, this site has lots of areas to explore!
REFERENCES
None